I love openwork tights. Lace, especially, but any sort of openwork tights will do. I love wearing them alone, but I love wearing them layered even more. Why layer tights? There are plenty of reasons to layer your hosiery.
Visual texture. They can turn a plain pair of gray tights into a crocheted masterpiece.
Tone down a bright color or create a new color. You might be a bit... uncomfortable... with having bright purple legs, or your bright purple might not match perfectly with your outfit. Layer black or gray openwork to tone down a color, or layer sheer tights to blend colors. It works, and it's fun to experiment.
Warmth (this is the big one for me). Openwork tights can be chilly. Layering them, even over a nude-colored pair of tights, makes the look
much
warmer.
Versatility. It's hard to find argyle or floral tights in all the colors you might want, but it's pretty easy to find a neutral openwork tight and any colors you want. Just one pair of colored tights and one pair of openwork gives you three separate combinations. Imagine what you can do with a collection.
The easiest to find will be black openwork. Of all types. But with a bit of work you can find plenty of other colors, and you can combine them to get looks like these:
Maroon tights under white thigh-highs are classy and vintage by Arinn.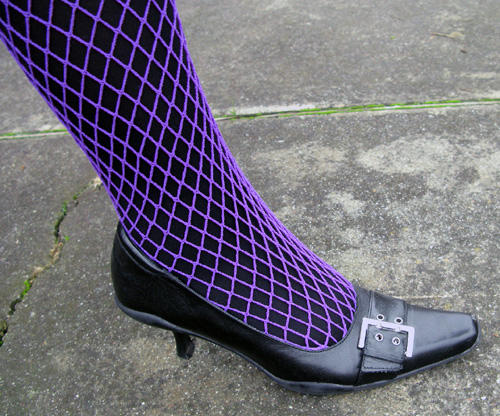 Trystan of This Is Corp Goth showing us all how it's done by layering brilliant purple fishnets over black
Color over color over at What I Wore 2day. Not for the faint of heart, but definitely fun. Layer similar colors, like this, or very different colors for a hugely funky look.
There are a whole lot of different looks you can get, and these aren't even all of them. The only rule, really, is that the tights
need
to fit. If they are too tight, you'll only end up uncomfortable and spending the whole day worrying if the too-tight top of the tights gives you a sausage-y look. If they are too big, you'll end up looking floppy, like a little girl with falling-down socks.
So, where the heck do you get these wonderful tights? Anywhere.
Target, Wal-Mart, wherever! Always check the hosiery section, especially the clearance. Most big box stores will have a limited selection, but that's why you check every time you're in there for groceries or craft supplies. Even if you find one good pair, the two minutes you spend walking over there will be worth it. I found a pair of ivory floral lace tights, miraculously in my size, at Target and now I check their hosiery section every time I'm there.
Essentially any clothing store. I favor stores like
Kohl's
and
J.C.Penny
, but that's my personal preference. Again, make a beeline for the hosiery section and look for the deals. You're more likely to find a variety of colors at department stores, so here's an ideal place to check for whatever color you desire.
We Love Colors
is great if you're looking for multicolored fishnets or solid tights, and they come in plus size! But, seriously, 51 colors? I have a wish list of colored tights that I want, and they've singlehandedly covered the entirety of it. As for the price, it's fairly reasonable and they'll last you a good long time if you take care of them.
Sock Dreams
is a great go-to. Their stock isn't limited to tights, so if you're looking for over-the-knee socks or almost anything else, they'll probably have it.
Celeste Stein
is pretty much legendary for their printed tights, but they've got a great selection of fishnets and other openwork tights that are worth checking out.
For big girls, sites like
OneStopPlus
can definitely be the way to go. They've got a variety of plus-size openwork tights from several different brands, and a few of them even come in colors other than black and gray. I've got several tights purchased from them, including a pair of plum floral lace tights that I adore, and they are certainly going strong.
So go forth and layer!