The Gibson Girl, avatar of Edwardian beauty.
The Edwardian era is often cited as an influence in lolita, but you don't often hear lolitas referencing the era when they talk about lolita fashion.
Rococo is ever-popular, with most lolitas including Momoko in
Shimotsuma Monogatari
(
Kamikaze Girls
) citing it as an influence. The Victorian era is less common but still commonly cited. But the Edwardian era? Rarely. Which is silly, because the era is rather a wealth of ideas.
Wikipedia
summarizes the general look quite well:
Fashion in the period 1900–1909 in European and European-influenced countries continued the long elegant lines of the 1890s. Tall, stiff collars characterize the period, as do women's broad hats and full "Gibson Girl" hairstyles. A new, columnar silhouette introduced by the couturiers of Paris late in the decade signaled the approaching abandonment of the corset as an indispensable garment of fashionable women. [...] Blouses and dresses were full in front and puffed into a "pigeon breast" shape of the early 20th century that looked over the narrow waist, which sloped from back to front and was often accented with a sash or belt. Necklines were supported by very high boned collars.
Personally, I love this look. Whether that love is a result of watching too much
Mr. Selfridge
or being a bit too fond of
The Importance of Being Earnest
isn't something I'm comfortable speculating on. What I can say is that I really enjoy the clothing of the Edwardian era. And, because it's not something I commonly see cited as an inspiration for lolitas, here are my tips and tricks for adding a bit of 1900 charm to your frills.
Loose Blouses with High Necklines
This is where you're probably going to want to get some off-brand. But don't let that scare you. This is where you try to find the comfortable blouses, loose and simple in color but with as much detail as you please in the fabric itself: sheer, embroidered, lace-accented, or whatever other detail you're seeking.
Full blouses aren't all that difficult to find these days in stores, but if you want a truly historically accurate blouse there are many options for patterns and ready-made blouses online. Folkwear Patterns has a beautiful and simple Gibson girl blouse pattern that can be altered in pretty much any way you like; I thoroughly recommend it if you're going to make your own blouse.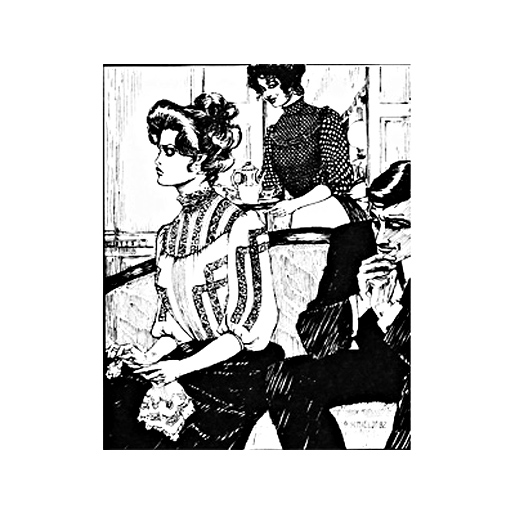 The only thing you really have to remember if you want a more Edwardian silhouette is to keep the blouse full in the front. Puff it out a little bit.
Sailor Dresses
Sailor dresses are a quick and easy way to hearken back to Edwardian bathing costumes. This is not the time for the lace-covered sailor dresses, though. This is the time to keep the detailing fairly simple and the style very summery.
Baby The Stars Shine Bright, 2001 (More information on Lolibrary)
Another colorway of the same OP.
Baby The Stars Shine Bright, 2001 (More information on Lolibrary)
Alice and the Pirates, 2012 (More information on Lolibrary)
Dropped Waists
Dropped waists were very common in dresses for Edwardian children. While they may not be as common in lolita as empire waists or dresses and skirts that sit at the natural waist, you can certainly find them. Here are a few examples:
Metamorphose, 2011. More information on Lolibrary.
Victorian Maiden, 2010. More information on Lolibrary.
Metamorphose, 2010. More information on Lolibrary.
Another way you can achieve this silhouette is by altering the location of a belt on a sack dress. Whichever you choose, it's definitely the most recognizable way to bring the look of Edwardian children's dresses into your lolita.
A-Line Skirts
The column-like shape of Edwardian era skirts might seem like the biggest stumbling block when adding Edwardian inspiration to your lolita. However, an a-line skirt with, say, the right Gibson girl blouse can give you a silhouette that has the same spirit while still being lolita.
What you're really looking for is a simple skirt with an a-line or wide pleats. Keep the silhouette simple.
Victorian Maiden 2013 (More Information on Lolibrary)
Mary Magdalene, 2012 (More Information on Lolibrary)
Victorian Maiden, 2010 (More Information on Lolibrary)
A basic a-line silhouette, especially if the hem is ruffled, is the perfect way to make a nod to the trumpet-shaped skirts of the Edwardian era.
Full-Sized Hats
These pictures from
DailyMail
show you some of the simpler hats that were worn on the street by ladies in the Edwardian period. And this lovely set of illustrations, taken from
Tuppence Ha'Penny
:
gives you a great idea of just how enormous and fancy these things can get.
Edwardian inspiration is a perfect reason to wear large hats with your lolita. Whether you want to wear a simple straw hat or a more elaborate decorated flat hat, you can really add detail to your outfit with what you're wearing on your noggin. Full-sized hats can also work with a variety of outfits. Small straw boaters (with or without the veil the woman in the first photograph is wearing) can work really well for more simple and casual coordinates. The larger hats should be kept to your OTT outfits.
And, because most brands don't release this sort of hat or release boater hats so simple that they could be from anywhere, here's a picture of Mana in a giant hat.
I don't know if you're as infatuated with the clothing of the Edwardian era as I am (if you watched
Mr. Selfridge
like I did, you probably are...) but I do encourage you to incorporate it into your lolita style. You might just discover a new favorite outfit.