This is a bit belated, but I wanted to tell you about the pretty pin that I got!
I've been working on adding accessories to my collection that will work well when I'm in work drag, so when I saw
this adorable needle felted owl pin
I knew I had to have it. At $27.00 including shipping, she was less expensive than other needle felted brooches I've seen, making it even better.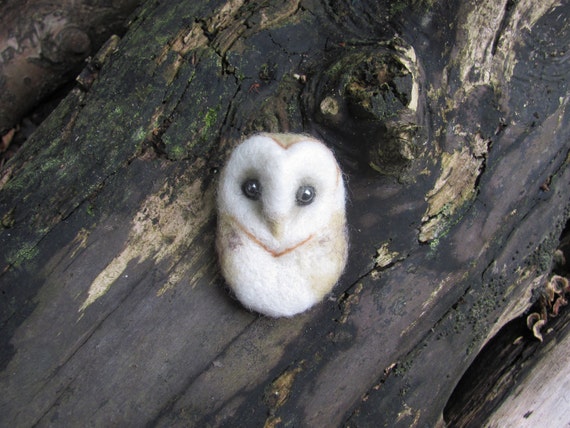 Shipping was pretty quick considering it came from Russia, and the description of shipping times included on Etsy was right on the nose. These pins are made to order, but the turnaround time was very good.
The description of the item was totally accurate. If this were an article of clothing, it would fit like a glove. Nice brooch pin, pretty colors.
As for quality, I quite like it. I know you can't see this, but the needle felting is very good. It's not so dense that you lose all sense of fluffiness to the owl, but it's sturdy and sure to hold together.
As for other little touches, it was packaged really well. The pin came in a little handmade box and was wrapped in what I assume was either a really cute printed napkin or tissue paper. Whatever it was, it lent a touch of texture to the packaging and really made me smile.
The rundown:
Brand: Handmade by November
Type: Needle Felted Owl Pin
Print: None
Shipping: 9/10
Description Accuracy: 10/10
Quality: 10/10
Other: 10/10
Overall Score: 9.75/10
The final verdict? Handmade by November is totally worth the cost of shipping. Her designs are charming and any of her accessories would look fab with mori girl. I know I love my new little owl.