The temperatures are starting to rise, and that means one thing: sailor lolita is going to be on the rise, too.
I love sailor lolita as a substyle. It's just so darn cute. If you're not as familiar with it, though, here are a couple of super cute pictures. If you are (as I assume most of us are if we've been involved with lolita for a while), hey, pretty pictures!
I've been trying to find a source for this. If you know a source, please tell me.
That said, she has an aircraft carrier on her head.
Paper Sails shows us how it's done
(Check out this video. Not just for full citation, but because it's super cute)
Anyway, back to topic.
Most brands have released something that fits in with the sailor theme in one way or another. Bodyline has released sailor dresses. Innocent World has released sailor dresses. Most brands have released
something.
However, if you don't fit into brand, can't afford it, or are trying to make some of your own lolita, it can be difficult to find dresses appropriate for the sailor substyle.
But never fear! Bookish Beauty is run by a pattern-mad crafter who is happy to share her information with you.
Because most of these patterns focus on sailor collars, I'm keeping this list down to two categories: dresses (or patterns that can easily be made into dresses... you'll see what I mean) and tops. Sailor-style details on skirts can range from trims and anchor buttons to fabric choice, which makes sailor-style skirts much easier to make. But dresses and tops? That's where it helps to have a source.
There are many patterns you won't find on this list. They might be vintage that is difficult to find or difficult to find in a variety of sizes. They might be sailor-ish but not distinct enough to be recognizable as sailor unless you squint and make sure to make them in navy blue.
I'm focusing on patterns that will work for many sizes, are fairly easily found, and are recognizable as sailor style with little-to-no modificiation other than perhaps a skirt swap.
Dresses
Fann Burrus 570
Sizing:
XS through XXXL (bust measurement between 31 and 52 inches)
This is probably the holy grail of sailor dress patterns that are readily available. Basic sailor collar, puff sleeves, two different skirt style options (with or without a waistband) that suit either a two-tone style like the one illustrated or a single-color style. Every size comes in the same package, so there are a wide variety of bodies that can use a single pattern. The circle skirt, while not necessarily the standard lolita shape, is perfectly acceptable so long as you have the right petti. If you want a different skirt, it's easy to swap out the skirt style.
Seriously, this pattern is amazing. You can also get it for five dollars in many places online despite it being a vintage pattern.
The one thing you really need to know with this is you should get your own pattern paper. Whether you use official stuff or regular old tissue paper, don't cut the pattern itself. I say this for two reasons: first, it's vintage; second, you don't want to limit such an awesome thing to one size, do you?
Authentic Patterns 331
Sizing:
5-7-9 (bust measurement between 30 and 32 inches)
6-8-10 (bust measurement between 30-1/2 and 32-1/2 inches)
12-14-16 (bust measurement between 34 and 38 inches)
18-20-40 (bust measurement between 40 and 44 inches)
Another longstanding favorite. You might remember that I showed this same picture back during DIY month when I told you how much I love square dance patterns. Yeah, it's a good pattern. The sleeves are a little different, what with the split design, and I find that really interesting.
One negative with this one is that the zipper is located in the center back, and so the sailor collar is split in the back. It's a little strange, I know. I'm sure it could be modified if you've got the skills, but it's still a little odd.
Another negative is that this, too, is vintage. This one's a little harder to find, but Authentic Patterns are more widely available than many other vintage patterns so I felt justified in pointing it out.
Folkwear 253
Sizing:
6-20 (bust measurement between 30-1/2 and 42)
Back to sailor lolita's roots, this is a pattern made for a turn of the century bathing costume.
This one will require some alteration. Unless you're going for sailor boystyle (which isn't a thing but could be), in which case it's probably darn near perfect. The reason for that is that it buttons up the front and is designed with bloomer-style bottoms instead of a skirt. The skirted version you see is actually an overskirt. This would be fairly easy to change, but not as easy as the dresses I showed before. The buttons extend down into the bloomer section, which is the most important detail to consider when modifying this.
This could also be modified fairly easily to make a top with a waistband and peplum if you'd prefer to have separate skirts and tops for versatility.
This is another pattern with a huge variety of sizing options included in the package, which makes it very nice for lolitas who are worried about gaining/losing weight.
Simplicity 2072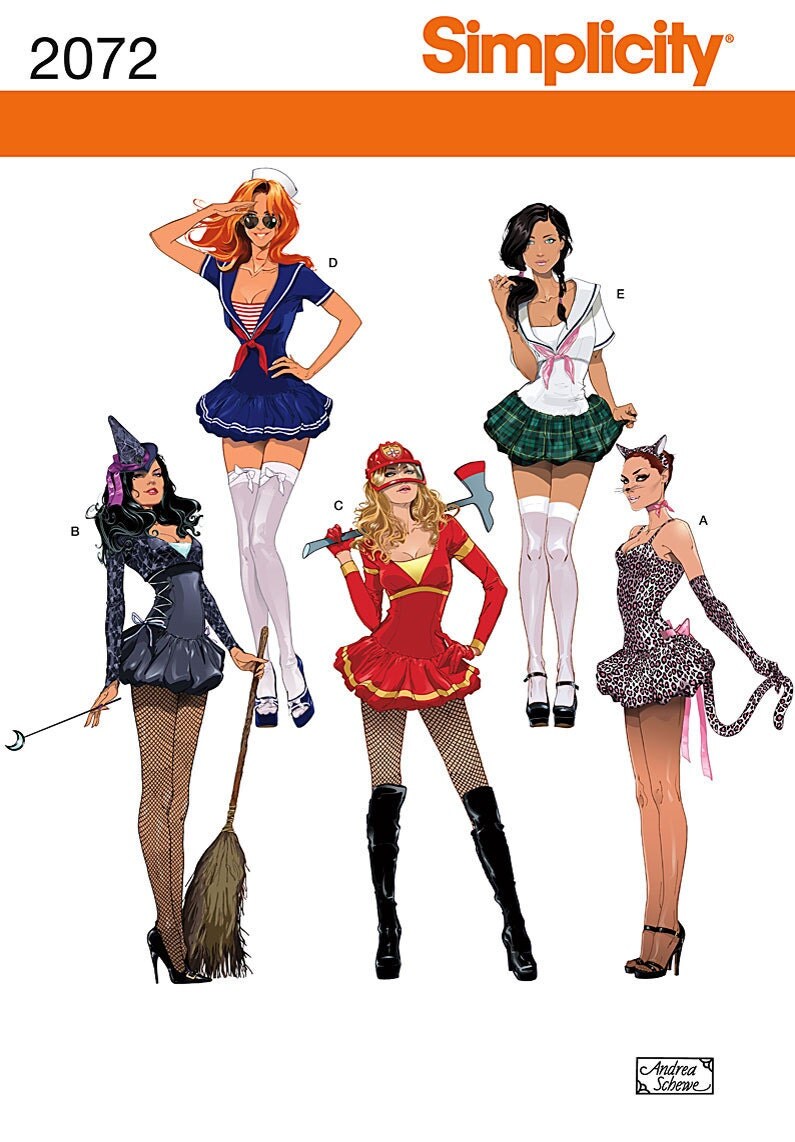 Sizing:
6-14 (bust measurement between 30-1/2 and 36)
14-22 (bust measurement between 36 and 44)
As a whole, this pattern probably won't do you much good for sailor lolita. However, views D and E have short-sleeved bolero jackets that will easily sailor up a plain JSK, OP, or skirt and camisole. Here's a closer look of at jacket in particular.
That's not so bad, is it?
This is a great example of loliable patterns, I think. While the pattern itself isn't lolita at all, this particular item could work into lolita in a snap.
Folkwear 270
Sizing:
X Small to 3X Large (bust measurement between 30.5 and 54)
A sailor blouse! This is such a simple and breezy blouse that you could easily wear it outside of lolita. The only thing you really have to worry about is the flared bottom. Tucked in, this will give you a gathered, blouse effect. if it's not tucked in, though, it won't work particularly well for the lolita silhouette (but could work beautifully for mori girl!).
Other than that, no modification required. And, with a 24 inch difference between the smallest and largest bust size, this is definitely a friend to many different sized ladies.
I hope this helps. I know it's only a short list, but sailor style hasn't been popular in the mainstream over the past few years. However, these patterns are fairly easy to find and will fit a wide range of sizes.
Happy sewing!